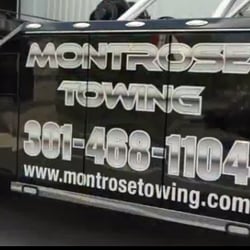 Welcome to Montrose Towing's new website and blog! We are a full-service towing company serving Montgomery County since 1984. We offer 24/7 towing, 365 days a year as well as roadside assistance and a long list of other services. Every week we will use this space to discuss different aspects of towing, towing service contracts, roadside assistance and a bunch of other topics. We'll start by going through all of the services we offer here at Montrose Towing. Then, we'll go through how to contract a towing service company. Finally, we'll answer a few regularly asked questions about towing and our services.
Flatbed Towing For Your Car's Wellbeing
Flatbed towing offers customers a piece of mind not available with traditional towing. By getting your car off the road and totally onto the bed of the tow truck it's protected from any minor damage or misalignment possible with other towing methods. All it takes is one good bump in the road to add insult to injury, so we do our best to serve our customers by using flatbed tow trucks.
We Handle All Types of Towing
Private Roadside Assistance:

Having your car break down and becoming stranded on the side of the road can be a frightening experience. That's why we offer spare tire assistance and towing services. Keys laughing at you from your cup holder? We also offer locksmith referral services to get you back in the driver's seat as quickly as possible.
Contracted Towing:

There's a reason Montrose is the largest towing provider for insurance companies in the state. Our competitive rates, reliability and qualifications are why we are one of the most trusted towing contractors in Maryland.
Truck Towing:

Truckers rely on their rig to make a living, so when something goes wrong on the road they need to be sure whomever they're calling for help can get them back on the road fast. Montrose Towing offers 24/7 towing services so you can get back to work.
Long Distance Towing and Private Delivery:

If you need your vehicle moved across state lines, or your new vehicle bought from out of state brought to your home, Montrose Towing can help. We have the experience and equipment necessary to ensure your car or truck makes the trip safely.
Car Towing Services
Parking Lot Enforcement:

Private parking lots are intended to serve the lot owner's customers, not the general public. After all, a private parking lot is private property. Montrose Towing responds quickly to resolve any issues to make sure your private parking lot is being used the way you want it to.
Police Department Needs:

The Montgomery County Police Department relies on Montrose Towing for all of their towing needs. Whether it's after a crash, a traffic stop resulting in arrest, or an illegally parked vehicle causing traffic issues, we are always there to help.
Abandoned Vehicles:

Nothing looks worse on a residential street or a business's parking lot than an abandoned car. No matter what the reason, abandoned vehicles need to be moved to a pick up lot so that they aren't a nuisance for homeowners or business owners.
Contracting a Towing Company
Just like all other contracts, contracting a towing company can get complicated fast. How do you choose a towing company that will work with you and offer the services you need? The first step is to do your homework. Look at different towing companies that operate in your area and compare services, pricing, and the areas they operate. One crucial aspect to look for at this point is licensing. Is the towing company you're considering committed to keeping their licensing and insurance up to date? If not, that should be a clear sign to look elsewhere. Once you find companies with their paperwork in order, look closely at what services they offer and if they fit your needs. Need to offer roadside assistance to your clients? Maybe you need to ensure your fleet has backup no matter what day or time it is, or maybe you need a reliable company to transport your inventory to buyers. Montrose Towing offers all of these services and more, and has a history as a reliable contracted towing company.
Towing Q&A
Q: Why do you use flatbed tow trucks?
A: A flatbed tow truck keeps your car up off the road so the chance of additional damage is significantly reduced during transportation.
Q: My tire's flat and I don't know what to do! Can you help?
A: Absolutely! Gives us a call (301-468-1104) and we can help replace your tire with your spare, or get you and your car to the repair shop.
Q: Can I sit in my car while you tow it?
A: As much as you might like your car, it's not safe to ride in a vehicle being towed. We have comfy sets in the cabs of our tow trucks for that exact reason, and we'll give you and your car a tow to the repair shop.
Q: I just bought a car online, but the seller is in Virginia. Can you help?
A: As a matter of fact, we can. We offer private delivery services to help you get your vehicle home quickly and safely.
Montrose Towing has been providing 24/7 towing services and emergency roadside assistance in Montgomery County for over 20 years. Trusted by local city, state, county, federal and private police departments, Montrose Towing handles everything from parking lot enforcement to private vehicle delivery services. Call us at 301-468-1104 or visit our website for more information. Be sure to follow us on Facebook, Twitter, Google+, and LinkedIn for news and updates.