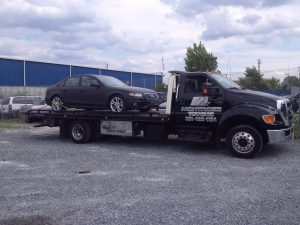 Commercial towing can be very different from other types of towing, and at Montrose Towing we understand your business's unique needs. When it comes to making your business run around the clock, you need a towing service that is available 24 hours a day and 7 days a week, with great towing rates, and speedy customer service. Every hour that your commercial vehicle is off the road, you lose time and money—so we work overtime to help get you back on the streets! Why is commercial business towing so important?
We're Fast, All Day and Every Day
Especially if you use your vehicle to get to and from client houses or businesses, it is crucial to getting your job done on time. Montrose Towing offers service all day and night long, so a late night flat tire doesn't mean a late night stranded on the side of the road. We respond quickly because we know how frustrating it can be to wait around for roadside assistance or a tow truck—especially when you're on the clock and missing business as a result. We guarantee that we will get to you and get your commercial vehicle towed as quickly as possible, no matter what time of day or night you call.
Flat Bed Towing
Many towing services use dolly trucks to get the job done, but when your commercial vehicle is the backbone of your business, flat bed towing is a much safer option. Business towing with flat bed trucks will get your vehicle completely off the road and protect it from any further damage. Ordinary towing will run your vehicle over every uneven patch of road, piece of road debris, and pothole (potentially doing even more damage). By using flat bed tow trucks, we ensure that your business towing needs will be met and that your commercial vehicle won't suffer any harm during the process.
Business Towing All Day and Night
Montrose Towing offers 24 towing service and roadside assistance for you and your business. Whether you're stuck on the shoulder of the highway at 2 AM or caught in a parking lot during rush hour, we have fast towing and roadside assistance services that will get you back on the road as soon as possible. To kick off your excellent experience with us, give us a call at (301) 468-1104 or visit us online.